I decided I would start this list to remind myself of good books I'm seeing throughout the year (2009) to nominate for my library system's "Notable Books" program. There is one part in Jan (so this would be Jan 2010 for the 2009 books) and another in April.
And usually when the call comes to nominate titles, I forget the things that have come out earlier in the year.
First off a book I think could be a strong contender for the Caldecott (any maybe the Coretta Scott King Award for illustrations)
Mama Says: a Book of Love for Mothers and Sons
by Rob D Walker, Illustrations by Leo & Diane Dillon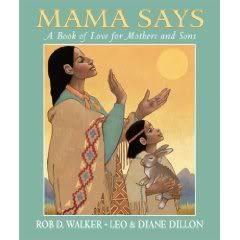 This book is simply stunning. Pictures of mothers and sons from a variety of cultures and ethnicities are shown....and the text is very elegant and economical (not overly flowery or any "forced" rhymes)... and is shown bilingually -- English and the language of that culture including: Cherokee, Hebrew, Russian, Amharic, Korean, Japanese, Arabic, Hindi, Quechua, Inuktitut, and Danish.
The greatest compliment I can pay any book is that it is one that I am willing to purchase for my home library. (As opposed to just checking it out for free from my library). This is one such title.